Welcome to Gemini Marine Products
Simplicity from experience
Gemini Marine Products has the experience, and we love a challenge
There's a kit for that
Looking to add grab rails or upgrade to a strapless bimini? Our popular kits are just the ticket.
No need to bend tubing, our kits have all the hardware you need.
Choose your grab rail kit now.
Choose your strapless bimini kit now.
Five stars, just for you!
"Exactly as described."
2023 Award of Excellence
We did it again.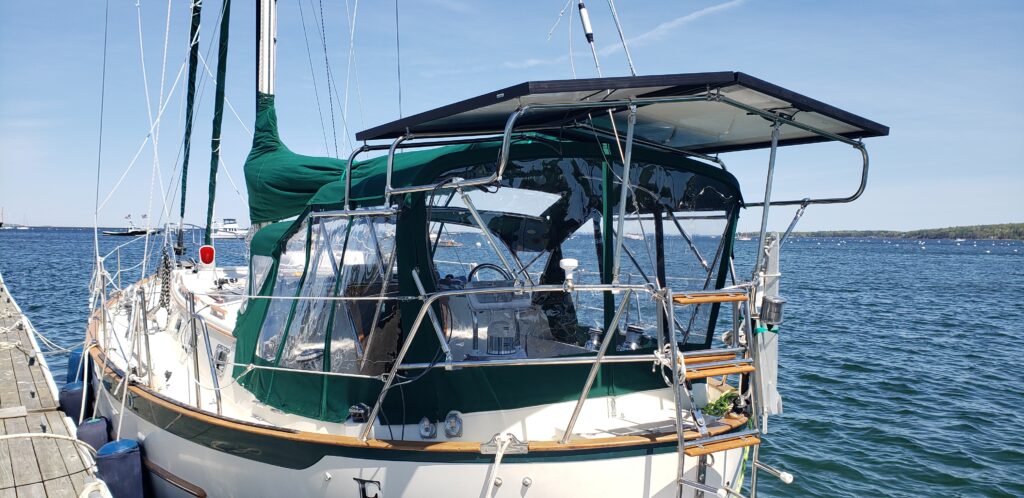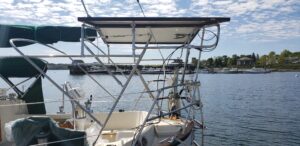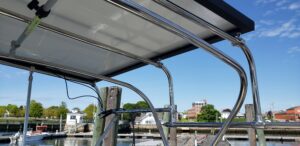 Our client wanted a full enclosure and matching sail cover with rigid solar panels that didn't interfere with the boom (and vice versa – solar panels don't like shade). It took a bit of doing, but John created a frame that gets the panels up and over the boom. It uses our own split side mounts to secure the panels, as well as a host of other hardware and fittings. The canvas looks great, the panels work great, the client is pleased as punch. Problem solved.
The build just won an Award of Excellence from the Advanced Textiles Association Marine Fabricator division. It was featured in the March edition of Marine Fabricator magazine. We couldn't be happier.
Not all solar builds are this complex, but if we can do this, we can get solar on your boat, too. Give us a call.
Our stainless does what others just can't
So you can, too.
Our 316 stainless steel fittings, including our exclusive, patented hinges and struts, set new standards in marine canvas hardware. Tried and trusted on hundreds of boats, they give you a wide new range of possibilities.
Designed to be flexible and adaptable, now you can have a folding dodger frame with better cockpit access, solar panels on your bimini top mounted on hidden structures and a host of accessories pretty much anywhere.
Want to know more?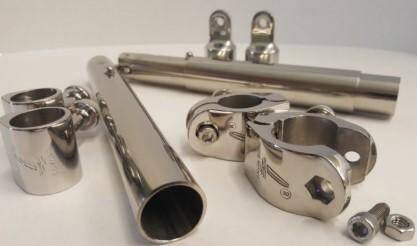 Know what you want?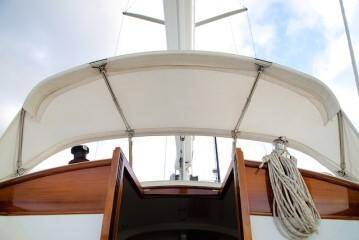 Ooops?
Lost a little something?
Check out our expanded selection of hardware,
nuts, bolts and screws to get your job back on track.

You're welcome.
Celebrating 25 years of excellence
Don't take our word for it
Our reviewers put it better

5 star products
"Great product. Well made and a credit to my yacht."
5 star service
"Wow! This is a company you will want to deal with."
5 star for DIY
"This is my second purchase…these will allow me to fab vs hiring a welder. Saving some bucks, yet with a quality installation."
Fast, friendly, fair shipping. Always.