DrillSteady
A helping hand right where you need it
Even on a rocking boat
No slipping. No gouged tubing.
Faster, more accurate drilling.
Every time.
Boats rock. That makes some jobs harder. Our DrillSteady drill guide makes one job much easier.
Get a FREE DrillSteady
Buy a strapless bimini conversion kit now and
get a DrillSteady FREE. A $57 value,
you'll wonder how you ever managed without it.*
DrillSteady is a handheld drill jig that clamps firmly to your tubing for flawless drilling every time.
No slips. No gouges. No marred tubing.
Even on a rocking boat.
Order now
Join our happy customers.
DrillSteady is a compact, portable drill jig that swings open to clamp on to your tubing. All you do is drill.
DrillSteady is easy to use, so it's great for DIY and professionals who want to build a bimini top, boat dodger, add grab rails and more. It fits in your palm (or in your pocket), so it's always close at hand.
Sound too good to be true?
With the DrillSteady drill guide:
You can drill a bent frame corner, stanchion or other tubing in place. There is no need to disassemble or remove tubing from your boat. This will save you time and money on cutting and welding (or repairing drilling mistakes).
You hold a 9/64″ (3.5mm) drill bit in place securely (use #8 screws).
Large, knurled thumbscrews mean an easy grip and tight fit.
The durable cast bronze or zinc* drill guide body will not mar your shining stainless steel.
The sturdy, tool steel drill bushing will last a lifetime.
Invented and made right here in Maine.
*Depending on availability.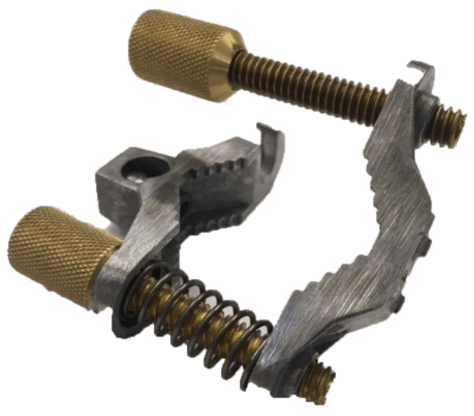 5 stars: "Great product. Very quick process."
– Richard B, December 2019
5 stars: "How big a drill bit can I use? Can I use a 1/4″ dia bit?"
– Tim O, October 2021 (GMP replies: The DrillSteady is designed to take a 9/64 drill bit. If you need something larger, we recommend you use this as your guide hole.)
Ordering is quick and easy
You can buy from any of our distributors, or you can add items to your cart using the Buy Now buttons below and pay securely.
You can even leave your cart to do more shopping then check out any time you're ready. To return to your cart, click the box at the far right of every page (the cart box is only visible after you have added items to your cart).

*One DrillSteady per customer. Offer valid for a limited time only.