Nothing to tension. Nothing to adjust.
No pins, straps or hardware to store.
Gemini Marine Products proudly introduces the strapless bimini – the frame stands on rigid back legs, and folding spreader bars push the end frames apart, giving you ultra clean lines and superb access.
Now you have a bimini with:
More room to fish, ski and move about in comfort.
Protection from sun and rain with fewer hassles.
Clear access to your cockpit.
No interference with winches or dodger.
Storage as easy as popping the patented GemLock hinges and folding the top back onto its support legs. Job done.
Get a FREE DrillSteady
Buy a strapless bimini conversion kit now and
get a DrillSteady FREE. A $57 value,
you'll wonder how you ever managed without it.*
DrillSteady is a handheld drill jig that clamps firmly
to your tubing for flawless drilling every time.
No slips. No gouges. No marred tubing.
Even on a rocking boat.
Perfect canvas in seconds every time
The strapless concept is flexible enough to suit a wide range of bimini constructions. The large bimini in this clip has collapsible legs for easy storage, but these are by no means standard or required for the design to work.
See how it's done
Converting your bimini to strapless is easy.
Our video shows you how.
Ready to lose your straps?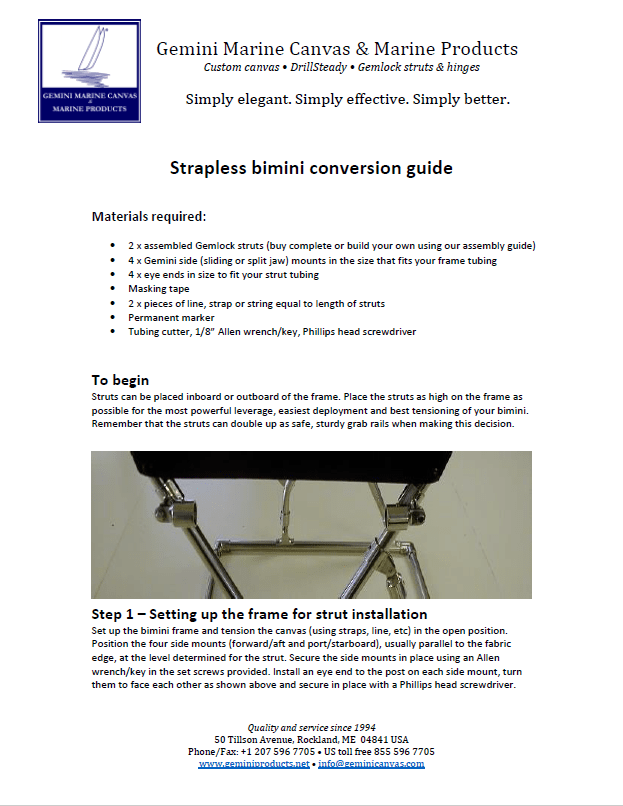 *One DrillSteady per customer. Offer valid for a limited time only.