One hand for the boat
New grab rail kits make safety easy
Solid and folding grab rails you can install today
New product, same quality. Lots of options.
Moving around on a boat underway can be tricky, but it can be safer with good, strong grab rails ready and waiting.
If your boat has one or two places where a new grab would come in, well, handy, we'd like to introduce our new suite of grab rail kits. No drilling required, no need to bend tubing, kits come with all the ocean-grade stainless steel components you need to install quickly and easily.
Order now
Join our happy customers.
Read reviews or leave yours at the bottom of this page.
Custom lengths up top 4′ (122cm) are available, as well as solid kits using 1 1/4″ (32mm) tubing. Contact us on +1 207 596 7705 for details and pricing.
Pro tip: Choose carefully!
While our grab rails can be placed on tubing just about anywhere, care is needed in choosing the right rail mounts for the job. Please consider:
Sliding side mounts WILL NOT slip around bends in tubing. If either end of the grab rail is inside a bend, please choose a kit with split mounts.
If the grab rail will be either on top of the roof of a dodger/bimini or overhead under the roof, please choose a kit with concave post mounts. This will enable the simplest installation and cleanest lines for your canvas.
You can't be too safe on board – let us help
Safety won't wait. If you slip, or your boat moves underfoot, are you confident your hand will reach something solid and reliable?
If adding a grab rail or two would give you more peace of mind, check our our new DIY kits. We offer a variety of options to help you add a grab just about anywhere you have tubing. Choose the tubing diameter and mount type that suits you best, and we'll send you the pieces you need to install without having to hire a professional.
Each grab rail kit contains:
Grab rails can be installed inboard or outboard of frame/tubing. They can be installed either outside/around canvas or through it by cutting a small hole in the canvas where the post on the rail mount will be and feed post through the hole. See our installation guide for more information.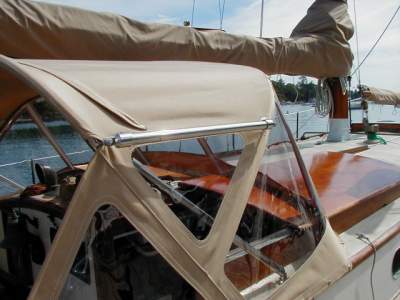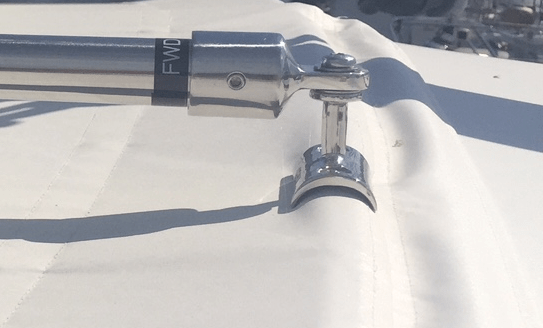 Ordering is quick, easy and secure
Just choose the items you need and add them to your cart.
You can even leave your cart to do more shopping then check out any time you're ready. To return to your cart, click the box at the far right of every page (the cart box is only visible after you have added items to your cart).
Review your new grab rail kit
Read reviews
Worked great. Good Quality. I am happy!
Response from Gemini Marine Products
We are happy you are happy. Thank you for letting others know.
Exactly as described
Able to install both grab rails in less than 30 minutes once I measured and cut the stainless bars to size, which I used a stainless tubing cutter to do. Making an exact measurement was challenging since the tube was too long for the grab rail but I got close enough to produce a secure grab rail.
Response from Gemini Marine Products
Excellent news and congratulations! We're so glad you like it.
Almost Perfect
Great Product, good quality. I just wish the hex screw came in from the other side. It has an embedded hex nut so you can't change the arrangement. If you're adding this to an existing Dodger it's just hard to tighten it without removing the Dodger. That's the only reason for not giving it a 5 star rating.
Response from Gemini Marine Products
That nut absolutely DOES come out, precisely so you can switch the hex cap screw around. Go on, give it a go. We guess that makes it perfect…?