Split and sliding side mounts
Extend your possibilitites
Stand-off type side mounts and hinged jaw slides dramatically increase the possibilities for updating and adding attachments to dodgers, biminis, davits and rails.
The range of uses is extensive, including:
Adding tensioning and support struts.
Adding spreader bars.
Attaching solar panels on your bimini top – this hardware is great for DIY solar additions.
Attaching antennae, awnings and foldaways for cutting boards and electronics pads.
Adding grab rails on dodgers, stanchions.
Fixing binnacle or aft rail lines.
Crafted from 316 marine grade stainless steel, our hinged side mount and sliding side mounts are available for use with 7/8", 1" and 1¼" tubing.
No disassembly required with our hinged side mount.
Unlike sliding side mounts, which must slip over the end of a tube, split side mounts can attach anywhere, including on frame bends, without disconnecting frame structures. This makes additions, installations and upgrades a breeze – even midseason.
Want something sleeker? Try our sliding side mounts.
Our sliding side mounts are less obtrusive than our split mounts (and a little easier on the pocketbook). Great for new builds or removable installations.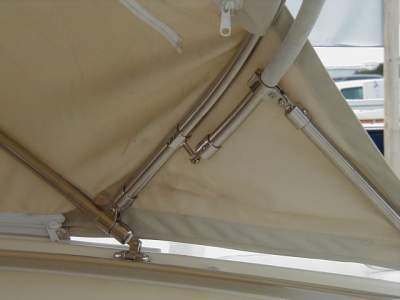 Order now
Ordering is quick and easy. You can buy from any of our distributors, or you can add items to your cart using the Buy Now buttons below and pay securely.
You can even leave your cart to do more shopping then check out any time you're ready. To return to your cart, click the box at the far right of every page (the cart box is only visible after you have added items to your cart).
Split side mount
Need specifics?