Split and sliding side mounts
Extend your possibilitites
Stand-off type side mounts and hinged slide mounts with a jaw that opens dramatically increase the possibilities for updating and adding attachments to dodgers, biminis, davits and rails.
A slide mount with an extensive range of uses is extensive, including:
Adding tensioning and support struts
Adding spreader bars
Attaching solar panels on your bimini top – this hardware is great for DIY solar additions
Attaching antennae, awnings and foldaways for cutting boards and electronics pads
Adding grab rails on dodgers, stanchions
Fixing binnacle or aft rail lines
Crafted from 316 marine grade stainless steel, our hinged side mount and sliding side mounts are available for use with 7/8", 1" and 1¼" tubing.
Order now
Join our happy customers.
Read reviews or leave yours
at the bottom of this page.
No disassembly required with our hinged side mount.
Unlike sliding side mounts, which must slip over the end of a tube, split side mounts can attach anywhere, including on frame bends, without disconnecting frame structures. This makes additions, installations and upgrades a breeze – even midseason.
Want something sleeker? Try our sliding side mounts.
Our sliding side mounts are less obtrusive than our split mounts (and a little easier on the pocketbook). Great for new builds or removable installations.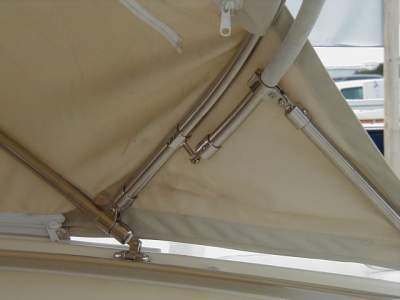 Ordering is quick, easy and secure
Just choose the items you need and add them to your cart.
You can even leave your cart to do more shopping then check out any time you're ready. To return to your cart, click the box at the far right of every page (the cart box is only visible after you have added items to your cart).
You can also buy from any of our distributors if you prefer.
Review your new side mounts
Read reviews
Great product
Well made and a credit to my yacht
Modified to carry jack staff but looks good.
Will certainly buy from you again
No UK agent Shame!!
Regards
Dave C UK
Response from Gemini Marine Products
Aw, thanks Mr C. We're here when you need us! BTW you CAN buy Gemini Products in the UK – KayoSpruce is our distributor there.
Second purchase
This is my second purchase. I have another project that these will allow me to fab vs hiring a welder. Saving some bucks, yet with a quality installation.
Response from Gemini Marine Products
Can't argue with that!
Old world craftsmanship is still accessible.
I'll be buying more, thanks!
Response from Gemini Marine Products
We're ready anytime you are.
Fast Shipping, excellent product
just what I needed to attach my solar panels to my arch. these are robust and the standoff and bolt arre very substantial and solid.
Response from Gemini Marine Products
We're so glad they are working for you. Those hex bolts are handy. Thank you for taking the time to let others know.
Tube supports for solar pannels
Great no problem parts are high quality
Response from Gemini Marine Products
Thank you! We knew you'd like them.