Split and sliding side mounts
Extend your possibilitites
Stand-off type side mounts and hinged slide mounts with a jaw that opens dramatically increase the possibilities for updating and adding attachments to dodgers, biminis, davits and rails.
The range of uses is extensive, including:
Adding tensioning and support struts.
Adding spreader bars.
Attaching solar panels on your bimini top – this hardware is great for DIY solar additions.
Attaching antennae, awnings and foldaways for cutting boards and electronics pads.
Adding grab rails on dodgers, stanchions.
Fixing binnacle or aft rail lines.
Crafted from 316 marine grade stainless steel, our hinged side mount and sliding side mounts are available for use with 7/8", 1" and 1¼" tubing.
Order now
Join our happy customers.
No disassembly required with our hinged side mount.
Unlike sliding side mounts, which must slip over the end of a tube, split side mounts can attach anywhere, including on frame bends, without disconnecting frame structures. This makes additions, installations and upgrades a breeze – even midseason.
5 stars: "This worked perfect for attaching to our rail. We attached a stainless steel flag pole to it.
Great product."
– Mark R, July 2021
5 stars: "Used the fittings to install a storage box between my dinghy davits – all the fittings worked perfectly – I did drill out the set screws and installed bolts to prevent failure."
– Robert A, January 2021
5 stars: "Very happy with purchase, the mounts look great on the arch of our sailboat, holding my solar panels! Easy to set in place. Will buy again when time comes for more panels."
– Marc H, December 2020
5 stars: "Great service from Gemini from my on-line order placed from Australia. Parts were shipped quickly and lots of feedback from them as to what was happening. DHL air freight let them down with their service though as the 4 -5 days transit turned into 2 weeks as the parts went on a worldwide tour (no reflection on Gemini, they were as frustrated as I was). Very happy with the mounts and will have them and my new solar panels on the yacht in the next week or so."
– Peter W, August 2020
5 stars: "Great product. Well made and a credit to my yacht. Modified to carry jack staff but looks good.
Will certainly buy from you again."
– Dave C, August 2020
4 stars: "It is a good product and fit correctly on the rail. However check the screw threads one did not seat completely but that was a small problem."
– Gary K, July 2020
5 stars: "I have not used at this time for the original intended purpose. I will keep the clamps for future use."
– Kirk M, June 2020
5 stars: "Good service. No problems delivery was on time, product was in good condition."
– Jeffrey M, September 2019
5 stars: "This is my second purchase. I have another project that these will allow me to fab vs hiring a welder. Saving some bucks, yet with a quality installation."
– Dave F, April 2017
5 stars: "Hardware is very easy to assemble. Customer services was excellent too!!"
– Debbie L, December 2016
Want something sleeker? Try our sliding side mounts.
Our sliding side mounts are less obtrusive than our split mounts (and a little easier on the pocketbook). Great for new builds or removable installations.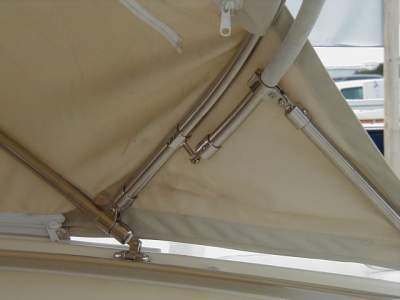 5 stars: "High quality product and shipped very quickly. I'd prefer a product that doesn't exist yet: curved, fixed length grab rails with swiveled, hinged clamps that don't require committing to drilled holes in my dodger frame, like studded grab rails do. Gemini should make this! But these side rail mounts seem like they will work well instead, and price and shipping were better than Sailrite. The stainless casting and finish is perfect quality. I was worried they would not slide over curved tubing, but there is just enough clearance to do so with no problem."
– Adam S, November 2020
5 stars: "Quick shipping and good quality. The slide mount seems really nice. I haven't installed them yet but they look really nice."
– Daniel H, July 2017
Ordering is quick, easy and secure
Just choose the items you need and add them to your cart.
You can even leave your cart to do more shopping then check out any time you're ready. To return to your cart, click the box at the far right of every page (the cart box is only visible after you have added items to your cart).
You can also buy from any of our distributors if you prefer.
Need specifics?